Jak se připravit na focení kamionu?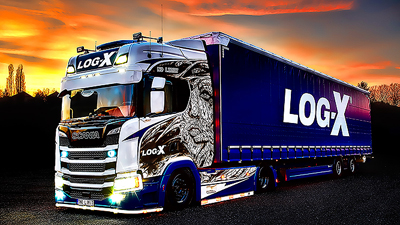 Na co si dát pozor? Co vše z výsledné fotky ovlivníte?
Předně je důležité ujasnění si, co od fotek očekáváte, jaké mají být, co mají prezentovat, pro jaký účel se fotí?
Dejte mi vědět co je pro Vás důležité, co má vyniknout. Nebo naopak co nemá ubírat pozornost. Je lepší na to myslet už při focení, než to dohánět zdlouhavou úpravou fotek.
Chcete fotky soupravy, tahače nebo kombinaci?
Výsledkem mohou být denní, noční fotky detailů, celků i polocelků jak statických, tak dynamických.
Všechny podrobnosti o focení je vhodné domluvit dopředu.
Pokud máte konkrétní představu a nápady, s chutí je přivítám k realizaci.
Víte, že velkou měrou se na výsledné fotografii podílíte právě Vy?
Co všechno tedy máte ve svých rukou?
Čas
Denní doba pro focení zásadně ovlivňuje světlo ve scéně a tím se značně podílí na výsledku, zejména na náladě celé fotky. Focení při východu, nebo západu slunce, nebo těsně kolem této doby zajistí krásné měkké světlo se zajímavou oblohou, na nichž auto vynikne. Nevýhodou je, že tato část dne je poměrně krátká a není tak moc času na velké změny scény. Samozřejmě, že i fotky během dne nebo za úplné tmy mají své kouzlo.
Místo (lokace)
Toto máte naprosto ve svých rukou. Každému se líbí něco jiného a má jinou představu o výsledku. Navíc většinou fotím u Vás, kde to dobře znáte a víte, kde jsou zajímavá místa, která se Vám líbí.
Vaše fotky se stanou originálními, když budete věnovat čas výběru místa focení. Pokud lokaci vybranou nemáte, můžeme jezdit a hledat, ale je dobré mít představu, jaký má být výsledek. Hezký na fotce je nerušený horizont, nebo jednotvárné/jednobarevné pozadí (betonová zeď apod.).
Tahač / auto
Příprava auta před focením se hodně podílí na výsledku a máte ho plně ve své režii. Jde pouze o jednoduché tipy pro focení, které ve výsledku zabrání mnoha nechtěným efektům. Myslím tím především tyto základní tipy (pokud tedy není Vaším záměrem opak):
– umýt auto včetně oken a zrcátek
– mít funkční všechna světla, majáky apod. – při focení je různě zapínáme
– uklidit za čelním sklem (co na fotce nechcete, to odstraňte, pokud to jde)
– uklidit v kabině, pokud se fotí interiér (co na fotce nechcete, to schovejte)
– registrační značky: v zásadě je několik možností, jakou si vyberete, ta bude na fotkách
nechat na autě a tím pádem zůstanou čitelné na fotkách

dát přes ně Vaší imitaci RZ se jménem (co se dává za čelní sklo)

dát přes ně moje imitace RZ s nápisem JANSTOJAN.COM

sundat je nebo překrýt něčím vhodným
Pokud chcete posunout fotku ještě dál, tak můžete:
– oživit pneumatiky chemií
– nakonzervovat a vyleštit karoserii
– oživit plasty (uvnitř/venku) chemií
Řidič
Především je důležitý dostatečný výkon řidiče. S autem je nutné přejet na místo/místa focení. Tam pak auto vzhledem k podmínkám různě popojíždí.
Důležitá je i tmavá dlouhá mikina nebo bunda řidiče (nejlépe černá nebo hodně tmavá, bez nápisů) a popřípadě černá kšiltovka. Během focení řidič většinou zůstává v autě a není hezké, když z tmavého interiéru řidič svítí. Přeci jenom jde o fotky aut, tedy pokud není Vaším záměrem opak.
Počasí
Pak už jen, aby nám vyšlo počasí…
Ale na druhou stranu, jaké je ideální počasí?
Mlha krásně oddělí auto od pozadí a dá vyniknout světlům – ty pak vytváří světelné pruhy na fotce a dodávají na dramatyčnosti.
Čerstvě napadaný sníh taky oddělí auto od zbytku scény a dá vyniknout barvám.
Mraky na fotce oživí jinak nudnou modrou oblohu a při západu slunce hrají všemi barvami.
Modrá jednolitá obloha se vhodně zvoleným minimalistickým pozadím může dát vyniknout barvě autu.
V dešti není moc komfortní focení a auto je plné kapek, ale krátkodobé předpovědi počasí bývají celkem přesné, takže můžeme v případě domluvy posunout focení. Ale pokud chcete fotit za deště mojí techniku to neomezuje (je stavěná do nepřízně počasí). Mokrá země je jako velké zrcadlo, které krásně odráží auto.
Doporučení
Nejraději fotím kolem východu, nebo západu slunce, kdy je nejkrásnější světlo celého dne.  Navíc je zde prostor i pro případné fotky ve zlaté "hodině" i modré "hodině".
Pojďme spolu vytvořit skvělé fotky Vašich aut.